Discover more from Chat With Suzy
Grab a cup of your favorite drink and join me on my digital front porch. Let's have a country chat! My chats come from a Natural Holistic Health Perspective & Farm Country Objectivity with Encouragement and Positivity.
Comfrey - in brief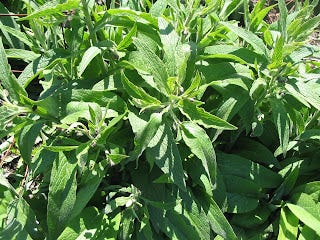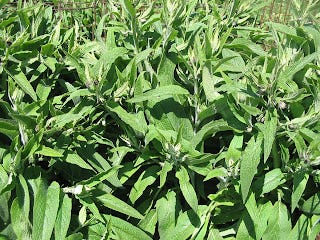 If you're daunted by the length of the last post - I'd like to briefly say this:

You'd be blessed to read the WHOLE article.
But if it's tooooo long, at least read the last 4 paragraphs.
(after which you might want to read the rest)

If you think peanut butter sandwiches, red wine, and brown mustard are good to eat - even healthy, you'd likely do great to have a glass of comfrey tea with your sandwich! If you've read those last 4 paragraphs, you know what I mean.

In brief, comfrey is a:
cell-proliferant (speeds healing at the cellular level)
antibacterial (known to kill staph bacteria)
high in protein (20%, some say up to 35%)
high in calcium
speeds healing (even for bones and cartilage)
high in vitamin B & A
high in iron
helps balance hormones
the list could continue.
Many of the early herbalists (pre-FDA) considered it one of the TOP herbs to have on hand for medicinal uses.

But the FDA has unjustly given it bad press and it's no longer commonly found in herbal catalogs or nurserys. But we've got plenty of starts available for those wanting to add to their plant collection.