Discover more from Chat With Suzy
Grab a cup of your favorite drink and join me on my digital front porch. Let's have a country chat! My chats come from a Natural Holistic Health Perspective & Farm Country Objectivity with Encouragement and Positivity.
Bar Soap - Immune Boost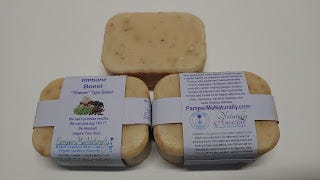 Immune Boost Bar Soap
Four Thieves style Immune Booster
Happy Skin Soap
A complex "thieves-type" "on Guard-type" "Essential Shield-type" blend of 7 essential oils known since the middle ages "four thieves anti-plague usage" to boost immune function and defend against a multitude of plague type symptoms. Contains essential oils traditionally known as bacteria-busters. A well liked aroma.

We can't promise results. 
We can just say TRY IT. 
Be Amazed.
Inspire Your Soul

Appearance: 
Herbal bits embedded into a creamy white base.

Aroma:
The soap base is infused with Naturally Amazing's Immune Boost Blend of essential oils of: Clove Bud, Cinnamon Leaf, Eucalyptus globulus, Eucalyptus radiata, Lemon, Lemongrass, Rosemary.

Base:
Carefully created in small batches from food quality oils of: olive*, coconut*, palm*, (may also contain avocado, grapeseed, or sunflower*), saponified with purified water and alkali, dead sea salt, essential oils for scent (as listed above), herbal or mineral color. *organically or ecologically grown sustainable ingredients

Size:
Weight at least 3.5oz

SKU: 76889 UPC:745051768898

Disclaimer: Our products are created solely for your delight and enjoyment. All statements about our products are for information and entertainment and  have not been evaluated by the FDA and are not intended as medical advise or to diagnose, treat, cure, or prevent any condition, ailment or disease.