Discover more from Chat With Suzy
Grab a cup of your favorite drink and join me on my digital front porch. Let's have a country chat! My chats come from a Natural Holistic Health Perspective & Farm Country Objectivity with Encouragement and Positivity.
Jewels to the rescue!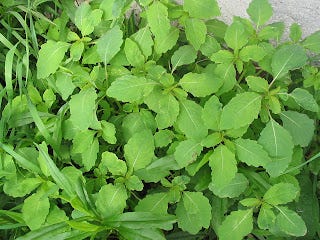 Jewelweed
Impatiens capensis
Parts: Stem, leaves, seeds
A virtual panacea for skin irritation. Jewelweed contains an anti-inflammatory and fungicide that's an active ingredient of "Preparation H". It works to prevent poison ivy rash if applied right away. It relieves bee and wasp stings as well as stinging nettle stings. Good for warts, bruises, and fungal skin infections such as athlete's foot and ringworm. Helpful for minor burns, cuts, eczema, acne, sores and any skin irritations.
When working outside, this is the first herb I look for after accidentally touching a stinging nettle or other similarly irritating plant. It also works well on insect bites too. You can make a jewelweed remedy for poison ivy or insect stings by following the salve directions below or make a tea by harvesting the plant from the ground up. Chop up the whole plant including the stem at the base of the plant that may have a reddish tint. Put your chopped plant into boiling water (roughly 1pint water per oz of plant) and boil until the water is reduced by half. Strain the plant parts out of the tea water. Squeezing them tightly to remove all of the tea. Then use the water as your remedy. This can be stored if frozen. Try using ice cube trays for a nice pre-measured amount.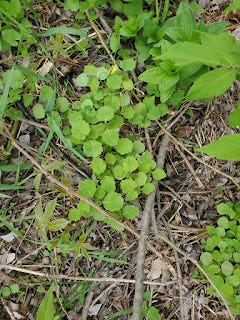 Very young Jewelweed.  Early May in Michigan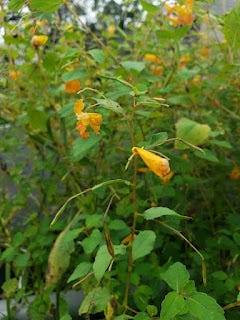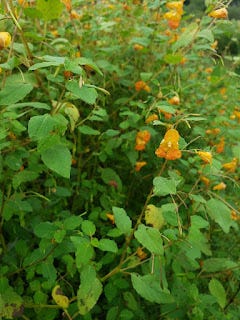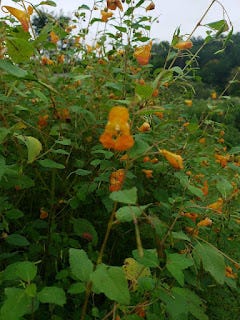 Jewelweed in bloom
Dried Jewelweed that was harvest in bloom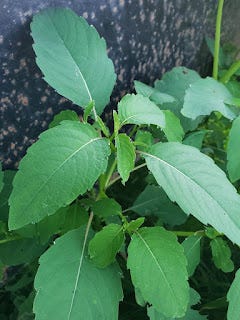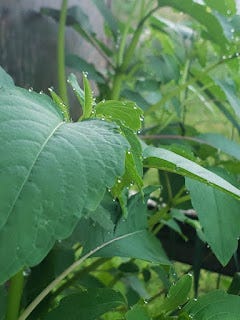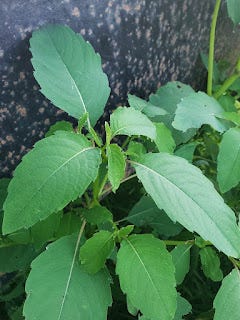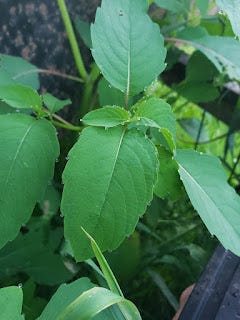 Jewelweed leaves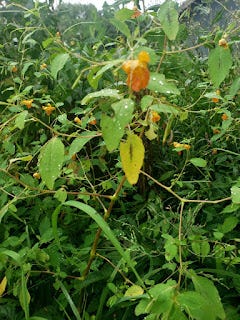 Jewelweed in Bloom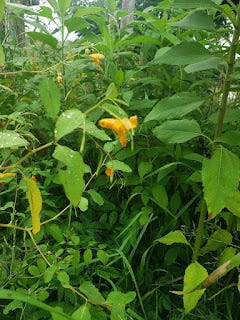 Jewelweed in bloom
Jewelweed