Discover more from Chat With Suzy
Grab a cup of your favorite drink and join me on my digital front porch. Let's have a country chat! My chats come from a Natural Holistic Health Perspective & Farm Country Objectivity with Encouragement and Positivity.
The leaf that penetrates like a spear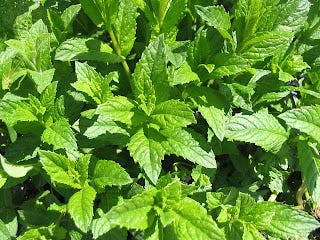 Mint
Botanical Name: Mentha piperita - Peppermint
Mentha spicata - Spearmint

Perennial Plant

This isn't really a "common weed/herb", but it is a commonly used herb that could be found or placed in your yard or field for a wealth of enjoyment.

It's a mint family members - so those square stems are a tell-tale identifying aid.
Other helpful mint family members I've posted about are Bee balm and catnip.

Peppermint and Spearmint plants look a lot alike.
But they taste a bit different.
Spearmint has a sweeter flavor.
Peppermint has a sharper mint flavor.

It's spearmint essential oil (the volitle oil or essence of the plant's scent and flavor) that Wrigleys uses for it famous chewing gum.

Mint is a great plant to have in your lil corner of the world.

It's a cool plant for children to have available to pick and chew the leaf of.

A small patch can make a lot of leaves to dry for mint tea.

And it has a pretty although not real showy flower.

Put it in an area that gets disturbed (like being brushed up against or walked on) and it will cast it's pleasant scent for you.

Mint tea is great to help settle a gassy, or over-stuffed, or unsettled stomach.
Mint or catnip tea is a soothing treat to a colicy baby.

The essential oil of peppermint is awesome stuff.
Although it's hard for the home grower to distill, it's still worth mentioning.

Mint is very penetrating. (Thus the post title.)

Peppermint essential oil works wonders when a couple drops are rubbed into sore muscles,
or at the temples or base of the neck for a headached even some migranes.
1 drop on your tongue will freshen your breath with a strong minty kick and if you breathe deep with it on your tongue it will clear your sinuses like nothing you've tried before.

Mint is very invasive. I mean REALLLLLLY invasive.
If you put it in your flowerbed you WILL live to regret it.
Instead plant it in the edge of your yard, or use it for a ground cover.
Once established it is hardy. You can mow it down and so long as it doesn't dry out, it will be back. And of course the mowing will make the yard smell minty instead of just cut grass smell.

It has horizontal roots like invasive grasses do. I don't mean the shallow rooted manicured lawn grass, I mean the heardy grasses like crab grass.

Peppermint and spearmint roots are a little smaller than a pencil and they have bracketed sections about every inch. That means, if laid on the ground horizontally and coveren with about an inch of dirt (that's not very deep) it will likely send up a mint stalk at every bracket! And they spread. Any bracket can split, or get broken and then each end or division will grow more. It doesn't take long for a few roots to turn into a carpet.

Horizontal roots are givers. I call them the gift that keeps on giving.
Hardy grasses, stinging nettle, peppermint, spearmint, and usually any bracketed horizontal root are designed to be difficult to erridicate. They pull up relatively easily, but if any of those inch-long bracketed roots remain behind, they will grow! If you consider them as beneficial instead of "weeds in need of erridication" you'll be happy to have them to share the joy with others!