Discover more from Chat With Suzy
Grab a cup of your favorite drink and join me on my digital front porch. Let's have a country chat! My chats come from a Natural Holistic Health Perspective & Farm Country Objectivity with Encouragement and Positivity.
Natural Non-Toxic Wasp Killer Spray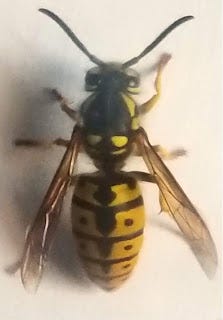 Natural Non-Toxic 
Wasp Killer Spray
Forget the toxic wasp killer spays that make you hold your breath.
Kill the wasps naturally without harming your lungs.
1/4 cup dishwashing detergent (any common brand or castille concentrate you have on hand will do)
1/4 cup water (purified or filtered water reduces risk of buildup in your spray trigger)
1/2 ounce Killer Mint for Wasps Essential Oil Blend or Peppermint Essential oil 
This needs to be 100% pure, therapeutic grade essential oil, not diluted, not a baking flavoring, no substitute this is the active ingredient.  We recommend Killer Mint for Wasps by Naturally Amazing Essential Oils distributed by Pamper Me Naturally.  You can find it here:  https://pampermenaturally.weebly.com/store/p1351/Killer_Mint_for_Wasps_%26_Other_Pests.html
Pour into 8 ounce or larger heavy duty spray bottle with a good strong trigger spray ability.
Shake before using.
Spray onto intended pests, keep out of downdraft of spray.
What's Happening and Why It Works
The soap coats their bodies with the peppermint essential oil which suffocates them. 
The water allows it to work in a sturdy spray bottle.
One spray with enough to coat them should quickly stop them from flying and make them drop to the ground and then kill them in a couple minutes or less. 
If it doesn't stop them fast enough for your liking, add more Killer Mint for Wasps or peppermint essential oil.
Please know that soap and mint oil can sting so keep it away from eyes and easily irritated skin and children who don't understand that. And of course, do not eat.

This recipe courtesy of the Pamper Me Naturally WWW.PamperMeNaturally.info