Discover more from Chat With Suzy
Grab a cup of your favorite drink and join me on my digital front porch. Let's have a country chat! My chats come from a Natural Holistic Health Perspective & Farm Country Objectivity with Encouragement and Positivity.
Tuesday April 07, 2020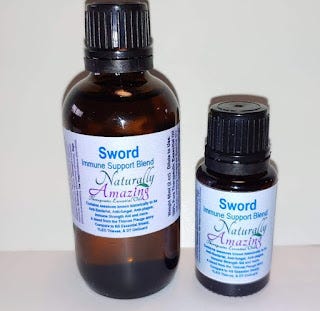 Sword Essential Oil Blend
Sword
Your powerful weapon against "The Crud"
An Immune Support Blend
Compares to YLEO's Thieves DT's On Guard, NSP's Essential Shield
Sword Contains Steam distilled essential oils of Cinnamon Leaf and Cinnamon Bark, Thyme, Sage, Oregano, Marjoram, and Rosemary, plus essential oil of the well known Australian "silver bullet healing leaf" Tea Tree.
These powerful essential oils are from the culinary spices most commonly known for kicking the microbial crud of Medieval plagues that are in current times referred to as colds, flu, bacteria, virus and fungus.
This blend (and many similar ones over the centuries) was created based on research about four thieves in France who covered themselves with thyme, sage, marjoram, rosemary, cinnamon, and other aromatics while robbing plague victims. Similar oil blends have been university tested with amazing results for their cleansing, bacteria busting and mold inhibiting abilities. It is highly effective in supporting the immune system and good health.
If You Like Sword, You Might also like it's "Crud Fighting" Companion Blends
IMMUNE BOOST,
DEFENSE, and
SHIELD.
They each have an essential oil blend page and other products made with them.
All of our undiluted therapeutic essential oils are available in 3 sizes:
15 ml standard size
60 ml economy size (saves 25% vs the 15ml)
5 ml convenient carry travel size.
https://pampermenaturally.weebly.com/store/p1365/Sword_Essential_Oil_Blend.html