Discover more from Chat With Suzy
Grab a cup of your favorite drink and join me on my digital front porch. Let's have a country chat! My chats come from a Natural Holistic Health Perspective & Farm Country Objectivity with Encouragement and Positivity.
Those sour 3 and 4 leaf clover-like plants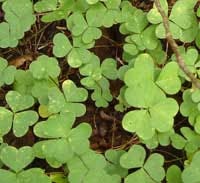 THIS IS A POST IN PROGRESS - MORE DETAILS AND PICTURES COMING SOON
Wood Sorrell
Oxalis, Sour grass
Oxalis
Parts: Tender leaves, stems
For: Frequently found in poor or acidic soils of yards or fields this sour tasting herb with a clover-like appearance is commonly tasted by children for it's lemony sour flavor. It can be used to make an iced tea drink, in salads or as a cooked green. See also sheep sorrell.