Discover more from Chat With Suzy
Grab a cup of your favorite drink and join me on my digital front porch. Let's have a country chat! My chats come from a Natural Holistic Health Perspective & Farm Country Objectivity with Encouragement and Positivity.
Color me Royalty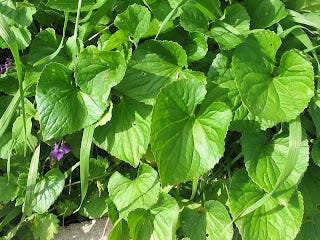 THIS IS A POST IN PROGRESS - MORE DETAILS AND PICTURES COMING SOON
Violets
Common Blue Violet
Viola papilionacea
Parts: Leaves, flowers
For: Salad, cooked greens, tea, candy.
The leaves can be eaten raw, cooked, or dried for tea. The flowers are a culinary delicacy when candied. Violets are rich in vitamins A, C and iron. A study done by Euell Gibbons says that a half cup serving will yield as much vitamin C as 4 oranges and a full USDA supply of vitamin A.
When harvesting, stick to the common blue-purple variety. Take care to not over-harvest the leaves, but since the flowers are not seed bearing, they cannot be over-harvested. African violets are not in the same botanical family and are not edible